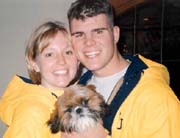 On March 11th, 2000 around 5:30 PM a Ford Explorer riding on Firestone tires with four occupants was heading North on I-45 at mile marker 166 near Huntsville, TX when it went out of control causing the death of Ashley Lea Fuhrmann.
Ashley Lea Fuhrmann, a Baylor sophomore, was driving. Spence Hegener, Ashley's boyfriend, a junior from Lake Charles, LA was riding in the front passenger seat. In the back seat behind the driver was Courtney Schomerus, a junior from Nederland. Seated behind Spence was Clint Mabry, a senior from San Antonio. They were all seatbelted in. Clint's seatbelt was not pulled snug against his body.
The group was heading back to their schools after a week of fun on a cruise out of New Orleans to Cozumel. They had also enjoy the events of Mardi Gras.
At about 5:30 PM, a loud bang was heard. It was the sound of the right rear Firestone tire on the Ford Explorer coming apart. The tread of the Firestone tire literally split apart and disintegrated similar to a recap coming off a tractor trailer's tires. According to the passengers, Ashley, who was driving, never said a word. She was concentrating in controlling the vehicle which had begun to go into a spin. This was caused by Ashley stepping on the brake. She had never been trained in how to handle a tire blow-out at high speed. They had been traveling at the posted speed limit of 70 MPH.
Clint reports that as the seconds immediately after the blow-out passed, it seemed that Ashley was getting control of the vehicle. That she would bring the vehicle out of the spin and to a safe and complete stop. But that never happen. The vehicle suddenly began to tip towards the passenger side. It proceeded to flip over in the direction of the highway median and oncoming traffic. The vehicle continued to flip over on its side across the median, across oncoming traffic lanes landing upside down, 6 to 8 flips later, in a shallow ditch on the other side of the highway.
The vehicle came to rest on its roof. All were hanging upside-down from their seatbelts. Spence looked over at Ashley. What he saw and heard, we can never really imagine. He immediately unbuckled himself, then Ashley. He held her and began yelling for help. He also kept talking to her.
Courtney had been knocked unconscious due to being hit in the back of the head by flying luggage which had been stored behind the back seat of the Ford Explorer. Clint released himself from his seatbelt. He got out of the car. Ignoring the pain in his ankles, he went back into the car to help Courtney. It was later determined that one of his ankles was broken and the other had been crushed caused by the car landing on them during the roll-overs. The doctors feared the worse about the crushed ankle. They thought that there was a possibility they would have to amputate the foot above the ankle. Clint is currently in the hospital in San Antonio. The good news is that the doctors were able to save the foot and rebuild the ankle. He will be going through a long period of rehabilitation but they are confident he will be fine.
Spence and Courtney ended up with a lot of bruises and soreness. Courtney suffered a minor concussion and Spence who had placed both of his hands above his head and pressed them into the roof of the car when it began to flip had both collar bones dislocate and then snapped back.
The paramedics arrived on scene and began trying to save Ashley. They did everything they could at the scene, during the 3 mile ambulance ride to the helicopter ambulance, and while in-flight to the nearest trauma hospital. Ashley Lea Fuhrmann was pronounced dead around 7:30 PM.
The DPS (Department of Public Safety) officer at the scene noticed something strange about the Firestone tire that was the cause of the accident. He helped in securing the vehicle and especially the tire for further investigation. It is a good thing that he did this. (see below)
Links to reports on Firestone Tires as reported by CNN & USA Today:
Tire-related accidents shatter lives - December 26, 2000
Accidents involving Firestone tires have led to 148 deaths and more than 525 injuries, federal safety regulators say. (Picture and Story of Ashley's accident included in article)
Two lawsuits allege faulty Firestone tires caused deaths - July 26, 2000
Two families have sued Ford Motor Co. and Firestone, alleging tread on Firestone tires on their Ford Explorers separated and caused fatal accidents.
NHTSA investigating failure of Firestone brand tires - August 03, 2000
WASHINGTON -- The National Highway Traffic Safety Administration has opened an investigation of Firestone ATX, ATX II and Wilderness tires after receiving 193 ...
Sears pulling Firestone tires from stores - August 4, 2000
Mounting concerns about the safety of some Firestone tires has prompted Sears Roebuck & Co. to pull several brands from its store shelves...
Ford looks into safety of Firestone tires - August 4, 2000
Almost 100 years ago, Henry Ford chose Harvey Firestone to supply tires for America's first mass-produced automobiles. It was the beginning of an enduring friendship and fortunes ...
Sears stops selling Bridgestone/Firestone tires under probe in crashes - August 4, 2000
Almost 100 years ago, Henry Ford chose Harvey Firestone to supply tires for America's first mass-produced automobiles. It was the beginning of an enduring friendship and ...
Firestone to Recall Millions of Tires - August 9, 2000
Embattled Japanese tire maker Bridgestone Corp. (5108.T) agreed to launch a recall of millions of tires U.S. safety regulators had been investigating for defects, sources familiar with the talks say ...
Firestone tires recalled - August 9, 2000
Manufacturer recalling 6.5M sport utility vehicle tires cited in fatal accidents ...