Home Page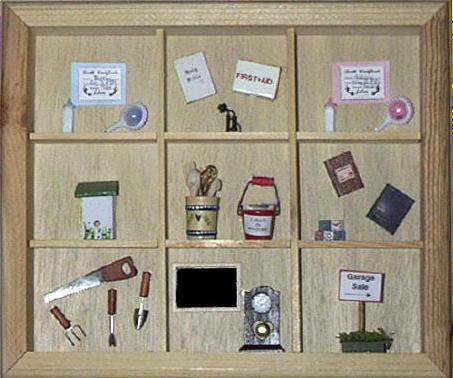 Mom -
I just wanted to say thank you for all you have done for Terrin and me. I also wanted to wish you a happy birthday and tell you I love you so much.
You are an inspiration to all who know you. You're an angel to all who meet you. You're both of these to me.
I made this shadowbox to represent the time that's gone by and the things you've done for us but might not gotten a thank you for.. Everything you have done has not gone unnoticed or unrecognized.

First is me. Ashley Lea Fuhrmann was born May 10th, 1980 weighing in at 7 pounds 6 ounces.
Then came Terrin Douglas Fuhrmann breaking the scale at 9 pounds on August 3, 1984.
To me, the Holy Bible represents strength. You have been a pillar of strebgth my whole life. I could always count on you for everything. You have been unselfish and put us before your own pain. Thank You!

Next is the first aid kit. This represents all the times you've taken care of us. You've bandaged cuts, taken care of bruises, rushed us to the emergency room plenty of times, and mended broken hearts.

The phone is for all the times I talk to you in a day. I don't know what I would do if I couldn't pick up the phone and call you whenever I wanted.

Two Words --- BIRDHOUSES EVERYWHERE!!
The kitchen utnesils are for always making a house a home. It didn't matter where we were, Burning Tree, North Castle Hills, Warwick Farms, hotels in the middle of the night, or Churchill Estates, they were always home because the three of us were together.

The cleaning bucket is for cleaning up after us for years and for us never saying thank you. So thank you!!

Blocks that say I Love You, can't express my true feelings. but Mom, I LOVE YOU SO MUCH!!.

The books represent always finding time to read to us and TRYING to help us with our homework.

Two more words -- GARAGE SALES!!
The clock is for always taking the time to be with us. You have always made time for us no matter what was going on in your life.

The blackboard represents all you have taught us. You taught about life, how to survive, how to grow, how to love, and how to be strong.

The tools are the last and they are my favorite. They represent how you have been both parents to Terrin and me. That's definitely not easy and you have done an incredible job. You've tried to give us every opportunity and tried to do everything a father does. In my eyes, you have succeeded.
Mom, I hope you have a great birthday. I love you --- Ashley